As a beauty writer, I've tried too many hair-care products to count. (Hey, it's part of the job description.) I've tested super luxe items like the Dyson as well as wallet-friendly drugstore finds, and the truth is that some lesser-priced formulas are just as good as the expensive ones. Case in point: I recently got my hands on Revolution Haircare's TikTok-famous Plex line, available at Target.
Beauty lovers on TikTok have compared its formulas to another popular bond-building range with steeper price tags, and so I just had to give it a try to determine if it's worth the hype. Ahead, I share my experience putting each of the products to the test, so you can decide whether or not to add it to your cart, too.
What I Like About the Revolution Plex Haircare Line
What I like most about the Revolution Haircare Plex line is that it's affordable (everything costs between $8 and $10), it looks good in my shower, and it does a good job making my hair look its best. There are a total of seven products in the range, each of which is labeled with a number corresponding to what step it should be in your hair-care routine. I purchased four out of the seven — specifically the shower products (not the stylers), in hopes to give my dry hair moisture. Here are the products I tried, how I used them, and how they worked on my thick, wavy hair.
First, you start with the Revolution Haircare Plex Step 3 Bond Restore Treatment ($10), which formulated to use before shampoo and conditioner. The brand recommends wetting your hair and leaving it on for 15 minutes before washing it out and proceeding with the shampoo and conditioner. I'll be honest: the thought of getting in the shower and then getting out to let the treatment sit on my hair just didn't do it for me, so I very slowly shaved and washed up while the product got to work seeping into my hair.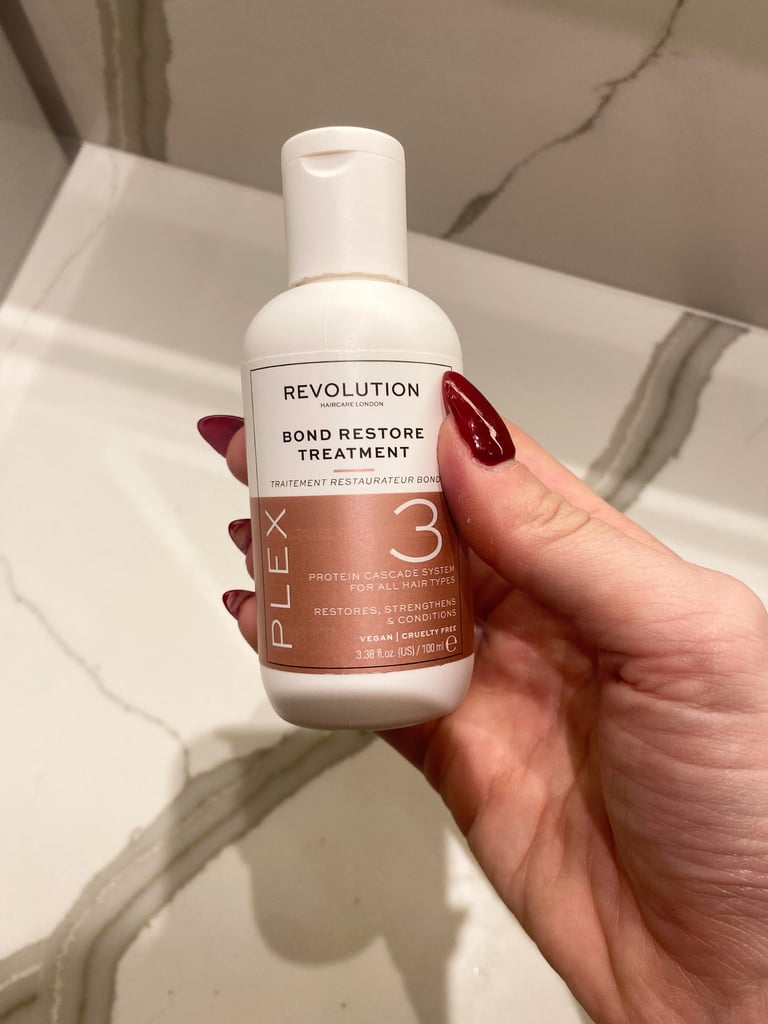 Then, I followed the treatment with the Plex Step 4 Bond Plex Shampoo ($10) and the Plex Step 5 Bond Plex Conditioner ($10). The shampoo foamed up really nicely, and both had the same lovely fresh and fruity scent as the treatment.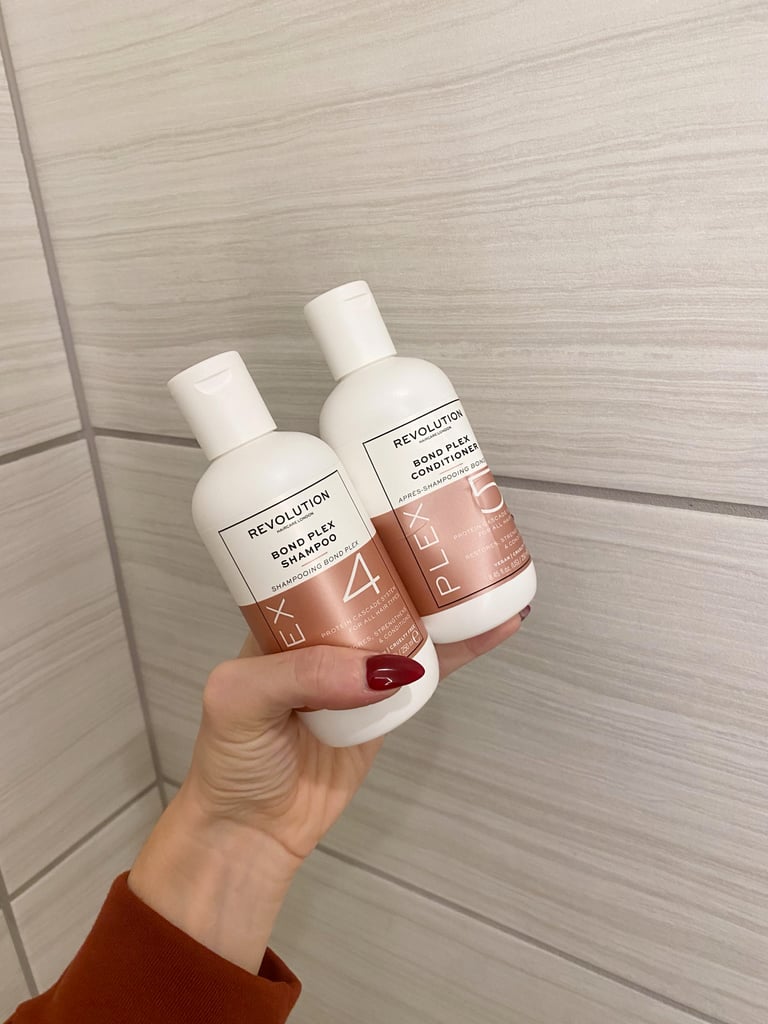 After blowdrying my hair into a smooth style with the Shark FlexStyle Air Drying & Styling System, I applied the Revolution Haircare Plex Step 8 4D Restore Oil ($10). This is, hands down, my favorite product in the line (and judging from its nearly perfect five-star review, I'm not alone). Just a few drops of the lightweight formula go a long way in increasing shine and preventing frizz.
What's Worth Noting About the Revolution Haircare Line
The most important thing to note is that Revolution Haircare products don't contain the same ingredients as its higher-priced rival. Perhaps the biggest comparison between the two is their similar name and chic packaging. The latter utilizes a patented ingredient you won't find in the drugstore range's products, though it does still contain plant proteins that the brand claims will strengthen, repair, and hydrate your hair. That said, though, it also contains synthetic fragrance and silicones, which some people try and avoid.
It would also do you a disservice not to mention that some shoppers found that the formulas made their hair dry, but this isn't something I personally experienced. After putting most of the line to the test, my hair felt soft and healthy and looked shinier than ever.
The Results
Who Is the Revolution Haircare Line Best For?
While the Revolution Haircare line would work across all hair types — straight, wavy, curly, and everything in between — it's best suited for those with hair damage or breakage due to chemical processing, color treatments, or just general dryness. It's also great for anyone looking for a big boost in shine. If it's important to you that your products look aesthetically pleasing in the shower, the brand's minimalist packaging won't disappoint.
Rating:
Image Source: POPSUGAR Photography / Marisa Petrarca